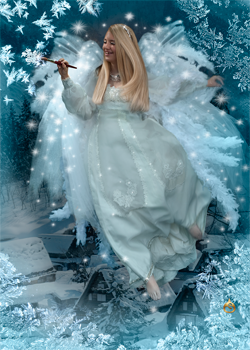 A Recipe for Holiday Magic
I have always been a sucker for the "Nutcracker Suite" in Walt Disney's "Fantasia." I love everything about those faeries, how they unfurl from flower buds, swirl through the sky, drip color on autumn leaves. Then there's that incredible moment when the fairy's toe touches down, the water turns to ice and her toe becomes a skate. MAGIC!
After my sister Lisa sent me an astoundingly intricate frost pattern from her Ontario farm last winter (the coldest winter EVER!), I knew I wanted a Frost Faerie scribbling on a window for the 2014 Holiday card.
What follows (scroll down pls!) are the ingredients for my Frost Faerie Holiday Card, using the creative process I've developed for making artwork.
1. Add One Sparkling Teen
The first ingredient of a Frost Faerie is a truly magical young woman. I was lucky to find Charlotte through her Grandma Lorna, my friend and colleague from the Colorado Professional Videographers Association. Charlotte has huge eyes, radiant curiosity about life, and a highly contagious smile. When she smiles, it feels like the sun embracing us after the storm. Perfect!
2. Coat with Faerie Wings
There's a wedding dress in my costume department that ends up in a crazy number of artworks. It has a train, long buttoned sleeves, and organza cut-out details. It cost $10 at the Boulder Humane Society Thrift Store. When Charlotte tried it on, it brought out the magic. What a dress!
Wings? Hmmm… Costume store wings were too stiff for a faerie. Fortunately, when another videography friend, Mo, moved to Maui, I inherited two dozen feather boas from her wardrobe. The boas were soft and light-weight. My cat demonstrated how well they flew when one boa accidentally slipped below the clothing rack. Thx, Puma!
Faerie wings are more "dragonfly" than "angel." The boas alone were too bird-y. The bride dress came with yards of veil that blended with the boas into unique wings. Just right for Frost Faerie!
For the jewelry, a tiara and a twinkling necklace evoked that "silvery faerie" feeling. Lorna, a professional hair and makeup artist, advised glitter for the cheeks and eyes, and voilà, the Frost Faerie was born!
3. Stir Arms into Gesture
Though Charlotte had never acted before, she's naturally emotive and was great at taking direction. We talked about Disney princesses and I showed her some basic pantomime to get her body into a graceful arc. We rehearsed the frost-painting. I should mention here that Charlotte had to pretend she was painting on a wall while hovering! No small order for a first performance. Finally, we worked on the faerie's gleefulness. Folks, that's a LOT to remember all at the same time. Charlotte was awesome!
4. Bounce Until Flight is Achieved!
Finally: FLIGHT! We used Charlotte's backyard trampoline. It took many, many bounces to get everything just right. At the end of the shoot, I had about twenty really great takes. I combined seven of them to get the final "perfect" Frost Faerie. It was tough to decide just which was the best face, arm, and foot. Fantastic things happened with the wings, too. The final wings are a composite of six different photos.
All told, there are forty-six layers in the final painting (that's for you, Photoshop buffs!)
5. Serve in a Gold Foil Envelope