Dates & Times
Friday, May 15 5:00pm-8:00pm
Saturday, May 16 10:00am-5:00pm
Sunday, May 17 11:00am-3:00pm
Registration $250
Registration   $250
Class Size
Limited to 8 people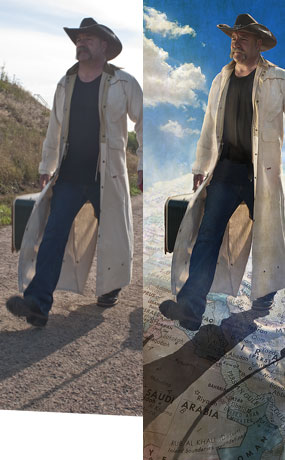 Location
Soul Journey Health
12211 W. Alameda Pkwy., Suite 104
Lakewood, CO 80228
Instructor
Sonya Shannon
Visionary Artist & Author
Explore Sonya's motion-picture inspired Creative Process, which we'll use in the workshop!
Click here to download the flyer.
Description
In this 3-day workshop, we will learn what goes into digital photo art, starting with your original vision and source photos through the final rendering of a composited digital masterpiece. We'll explore composition, symbolism & meaning, and Photoshop techniques including masks, blend layers, lighting effects, atmosphere, painterly perspective, and artistic style. You will learn cinematic approaches to taking photos and creating a body of artwork.
Our focus will be on digital art tools and workflow. We'll use powerful Photoshop tools to express your vision. Please note that this workshop is NOT a marathon Photoshop training session—meaning, we won't be skimming over every single tool in Photoshop. Instead, you will come away with deeper skills in specific areas of Photoshop. Most importantly, you'll gain a thorough understanding of a cinematic approach for making art that has more power, depth, meaning, and beauty.
Who Should Take This Class
photographers who are passionate about creating digital images
digital artists with a vision for an individual piece or body of work
Photoshop enthusiasts who want to learn cinematic techniques for making photo-based art
digital photographers wanting to master surreal effects and deepen their artistry
those proficient in Photoshop who want to better their skills and approach
Equipment
Please bring your own:
laptop running Photoshop
your tablet and stylus for best results (optional)
snacks, water or beverage
Project Materials
You will need your own digital photos and/or legally obtained stock/public domain photos, including:
studies & principle photos of your main subject
background elements
props & visually symbolic elements
special effects including light patterns, water, smoke, flames & sparks, etc.
finishing textures such as canvas, parchment, stone, concrete, grunge, etc.
Testimonials
"I was introduced to the
Transformation Oracle
by Certified reader
Jeanette Peasley
and fell in love with the artwork! When I attended the
weekend workshop
I was amazed at how the connection and interaction was with God, myself and the Transformation Oracle. I felt like had come home, that this was a big part of who I am but was never allowed to be myself. I felt alive and awake! Transformation is what I have been experiencing since that weekend and it's gets better and better everyday! I encourage you who are reading this to try a reading, a class or just look through the artwork and see how the Transformation Oracle speaks to you!"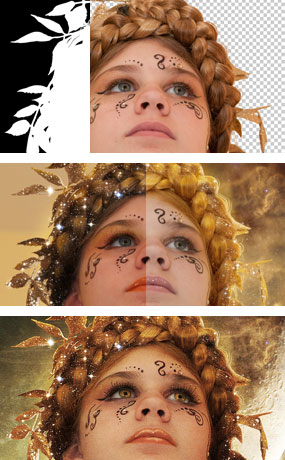 Discover how to evolve your source photo through cutting masks, adding adjustment and blend layers, hand-painted special lighting effects, and surface finishing to a digital masterpiece.
FRIDAY – CINEMATICS OF DIGITAL ART
focusing your artistic vision
overview of the digital art workflow
public domain & royalty-free image sources
composition basics
a cinematic approach to photography
working with talent & property
SATURDAY – COMPOSITING
techniques for masking
controlling scale, perspective, and image space
handing layers and layer groups
enhancing mood with adjustment layers
working with special visual effects (VFX)
SUNDAY – CONVINCING SURREALISM
integrating elements with lighting & color
key & secondary light& accurate cast shadows
techniques for increased realism
simulating different photographic looks
artistic style & finishing techniques